Hello,
Since St. Patrick's Day is coming up fast
I thought I would share some links
of a few of my favorites!
First is this lovely set of free printables
Perfect for shabby cottage crafting!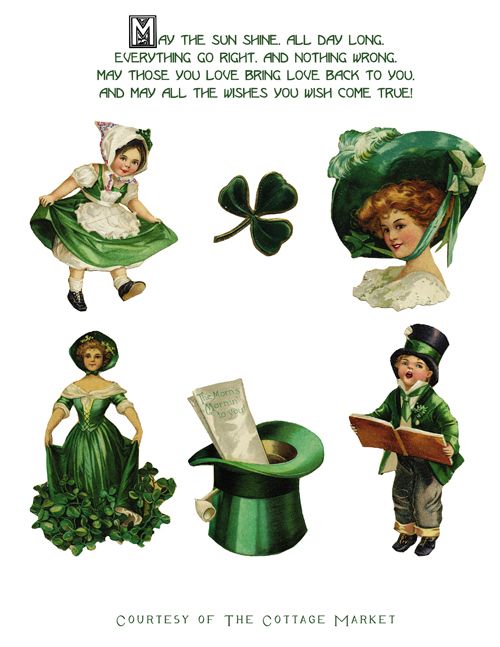 Next is another darling set of free printable's at
I want to share this link from HGTV forums
with lots and lots and lots of free printable's
for St. Patrick's Day!
It includes candy bar wrappers, bag toppers, boxes and bags and more!!
Look at these yummy and adorable
rice krispie shamrock treats
Here is a super cute idea
using a mason jar
filled with goodies
These super cute and easy Kiss Me I'm Irish
Shared this beautiful prayer of St. Patrick
This would be great to make bookmarks for
children, family, friends or to hand out at church!
As I arise today, may the strength of God pilot me,
the power of God uphold me,
the wisdom of God guide me.
May the eye of God look before me,
the ear of God hear me,
the Word of God speak for me.
May the hand of God protect me,
the way of God lie before me,
the shield of God defend me,
the host of God save me.
May Christ shield me today...
Christ with me, Christ before me,
Christ behind me, Christ in me,
Christ beneath me, Christ above me,
Christ on my right, Christ on my left,
Christ when I lie down, Christ when I sit,
Christ when I stand,
Christ in the heart of everyone who thinks of me,
Christ in the mouth of everyone who speaks of me,
Christ in every eye that sees me,
Christ in every ear that hears me.
Amen.
Well now I believe I better get busy making some things!
I have a great idea for using left over heart shaped
doily's
that I will be sharing soon!
I hope you enjoyed these and I hope everyone
is safe through these terrible tornado's
that have went across the US today!
My thoughts and prayers are with them.